Rev, Wilbur Edmondson
July 27,1932 - February 5,2015

***Obituary listed below***



---
Hello & Welcome to

Freedom Baptist Newton

Web-Experience



We are delighted that you are here.











































Freedom Baptist Church Family

If you are visiting or live in the Newton area, We would

love for you to come and be a part of our services.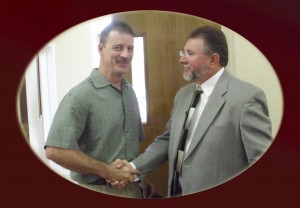 Church Services
Sunday Services
Sunday School 10:00 am
Sunday Morning Worship 11:00 am
Sunday Evening Worship 6:00 pm
Wednesday Service
Wednesday Night Prayer Meeting 7:00 pm
---
Obituary for Rev. Wilburn J. Edmondson
The Reverend Wilburn J. Edmondson, 82, of Lincolnton passed away Thursday, February 5, 2015 at his residence.
Wilburn was born July 27, 1932 in Stokes County to the late Howard and Ella Benfield Edmondson of Reidsville, NC. In addition to his parents, Wilburn was preceded in death by his loving wife of 63 years, Evelyn Byers Edmondson and a brother, Michael Edmondson.
A servant of God, Pastor Edmondson served as minister at First Baptist Church Conover which became Emmanuel Baptist Church when the town of Newton annexed the site of the church. Since there was already a First Baptist Church in Newton, Rev. Edmondson led the church in re-naming it Emmanuel Baptist Church. A graduate of Fruitland Bible Institute, Pastor Edmondson faithfully served the Emmanuel congregation for 42 years. Upon his retirement, Wilburn continued his ministry in revivals and special preaching engagements throughout the world for twenty more years. A true believer in Acts 1:8, Wilburn preached locally, and in Jerusalem, Guatemala and other countries.
Pastor Edmondson served the community as well. He was a very caring man who believed in sharing. When called to Emmanuel Baptist, Reverend Edmondson found that the 13 members were about to lose their church to foreclosure; however, after much prayer he sold his home where he and his family lived to pay for the church so the members could worship without financial burdens. He lived what he preached in that we should care for others whether they were hungry, poor, or had other needs. Known throughout Catawba County for his service, Wilburn gave the dedication for the Catawba Valley Medical Center when it opened in 1967.
Not only did Wilburn Edmondson love preaching, but he enjoyed being in God's creation. Wilburn loved the outdoors and had a passion for hunting. He raised and trained world class hunting dogs that were sold around the world. Pastor Edmondson loved his pointers and setters, and one son laughed when sharing that when Wilburn was away for preaching, he would call home and ask if the dogs were fed and cared for before he found out about the family.
Left to cherish Wilburn's memory are his children: Ravon Edmondson and wife Carolyn of Hickory; Joey Edmondson and wife Michel of Lincolnton; and Garland Edmondson and wife Kim of Newton; daughter, Joyce Marie Edmondson of Maiden. Wilburn is also survived by sisters: Sheila Holbrook of Vale; Gail Deal of Conover; and Franky Williams of Denver. He is survived and loved by thirteen grandchildren and eleven great-grandchildren.
A service to celebrate the life of Rev. Wilburn Edmondson will be held Monday, February 9, 2015, at 2:00 PM at Emmanuel Baptist Church in Conover. Rev. Brian Correll, Rev. Dewayne Whitmore, Rev. Whitley Hedrick and Rev. Bo Caulder will officiate the service. Burial will follow at Eastview Cemetery in Newton. The family will receive friends on Monday, February 9, 2014 from 11:00 to 1:45 PM at Emmanuel Baptist Church. Serving as pallbearers are his children and grandchildren: Ravon Edmondson, Joey Edmondson, Garland Edmondson, Joseph Edmondson, Josh Smith and Scotty Edmondson. Serving as honorary pallbearer is J. C. Fox.
Memorials may be made to: Hospice of Lincoln County, 900 Donita Drive, Lincolnton, NC 28092
The family would like to say a special "thank you" to his primary care givers for the last year: his daughter-in-law, Michel Edmondson, and granddaughter, Chasity Campbell. Both are loved and appreciated.
Condolences may be sent to the Edmondson family at: www.robertbennettfuneralservice.com.
The Edmondson family is in the care of Bennett Funeral Service of Conover, 828-465-2111.